23.06.23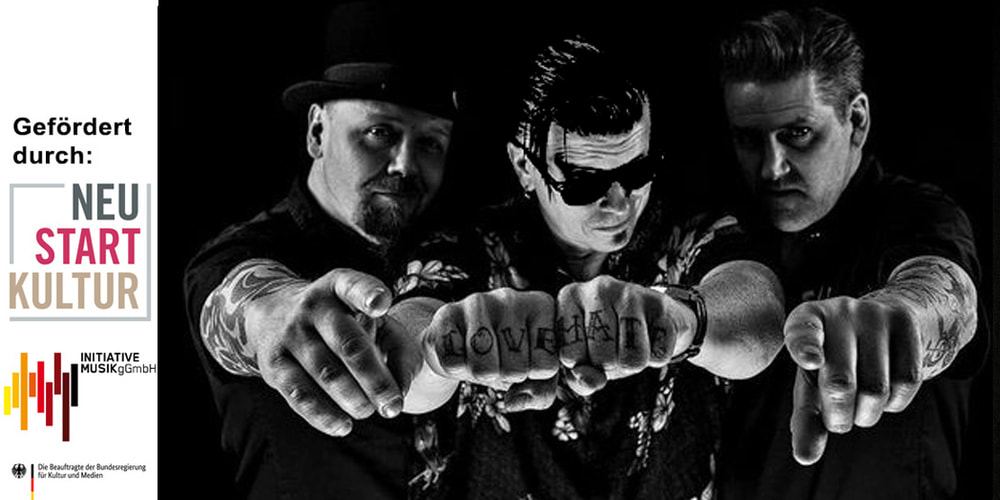 gefördert von Neustart Kultur, der Initiative Musik und der Beauftragten der Bundesregierung für Kultur und Medien
THE GO GETTERS

23.06.23 in Berlin, Lido
Tickets – THE GO GETTERS
Berlin
---
Informationen
THE GO GETTERS
In January of 1988, amidst the frozen badlands of Västerås, Sweden, a gang of Vikings decided to heat things up by forming a rockabilly trio. They would call themselves the Go Getters. Now, years later, the ensuing inferno rages like an oil fire out of control.
Led by standup drummer and chief songwriter Peter Sandberg on lead vocals, the Go Getters have electrified audiences around the world with their own custom blend of ass-kickin', blues-marinated, high-octane, mega-watt rockabilly boogie.
After appearing on several compilation albums in the late 1980's, the Go Getters released their first single, You Don't Love Me, in 1992.
The platter soon topped the European roots music charts and led to the release of their debut LP, Real Gone!; considered a milestone in modern Euro rockabilly music for its heavy infusion of the blues.
The success of these records fueled a demand for the group throughout Europe, Australia and USA where they toured without mercy for decades now.
In addition to their own shows, the Go Getters have backed many of the 50's biggest rockabilly stars, including Sleepy La Beef, Ray Sharp, Larry Donn, Johnny Powers and the greatest of them all, Mr. "Rockin' Bones" himself, the late Ronnie Dawson (R.I.P) out of Dallas, Texas.
Since 1990 Dawson used them on almost all his tours in Scandinavia. He is sorely missed by the whole Rock & Roll scene worldwide.
He was a great person, friend and mentor to Sandberg.
In Memphis, USA 2018 they won the prestigious "AMERIPOLITAN Music Award" for Rockabilly Band of the Year!
They also performed at the Graceland guesthouse on the awards night.
With 8 Albums and more recordings (and live shows) to come in the near future, they will keep you rocking & rolling, bopping & strolling 'till the cows come home!
THE GO GETTERS' MIX OF BLUES, ROCKABILLY, PUNK AND COUNTRY GENERATES A POSITIVE PARTY ATMOSPHERE THAT WILL KEEP THE BEER-TAPS OPEN AND TOES TAPPIN' ALL NIGHT AT ANY BAR OR EVENT.
Gefördert von Neustart Kultur, der Initiative Musik und der Beauftragten der Bundesregierung für Kultur und Medien.